We use the most up-to-date technology to ensure the best eye care possible. Here are some of the different types of tests and equipment you may experience on a visit to our Practice.
What is TearCare®?
TearCare® is an innovative Dry Eye procedure that targets the blocked meibomian glands in your eyelids that produce oils to keep your tears healthy. When these glands become blocked or have reduced function, your tears may evaporate more quickly. Unblocking these glands with The TearCare® System can help restore their function and stabilize the tear film. This may improve the quality of tears and reduce symptoms like dryness, gritty or scratchy sensations, blurry vision, and watery eyes.
At your appointment, we will determine whether your dry eye symptoms are caused by Meibomian Gland Dysfunction (MGD) and would benefit from the use of The TearCare® System.
For more information, click here
Humphrey Visual Field Analyzer
A visual field test is performed to detect diminished or missing areas of vision in the central and peripheral (side) vision.
A visual field test detects those areas of your vision which may be affected by various medical conditions such as glaucoma, strokes and brain tumors or medications and injuries to the eye or brain. The test may also be required by the DMV in order to keep or obtain a drivers license. It is used to determine if an area of vision has been affected, to evaluate the severity and to monitor progression of the disease or condition.
The test is painless and generally does not require dilation drops. The length of testing is dependent on the test ordered. Your doctor will discuss the reason for the test and what to expect.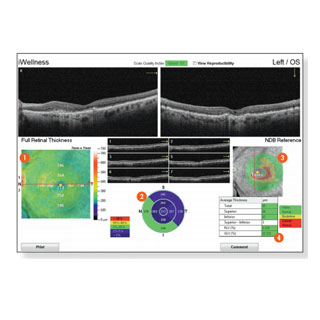 iWellness Exam
The iWellness Exam is fast, easy, & comfortable for patients of all ages . Regular iWellness exams can help your doctor detect common eye diseases: Diabetic Retinopathy, Glaucoma, and Macular Degeneration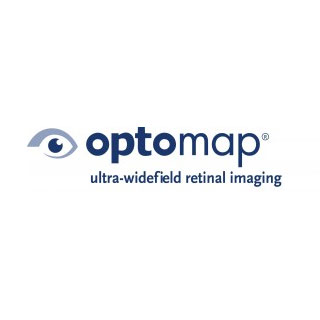 Optomap
The optomap® Retinal Exam produces an image that is as unique as you fingerprint and provides us with a wide view to look at the health of your retina. The scan will show us a healthy eye or detect disease.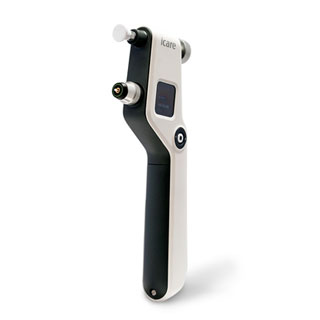 iCare Tonometer
This accurate painless puffless tonometer measures the eye's intra-ocular pressure (IOP).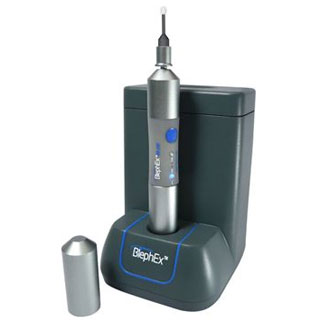 BlephEx
BlephExTM hand piece precisely and carefully, spins a medical grade micro-sponge along the edge of your eyelids and lashes, removing scurf and debris and exfoliating your eyelids.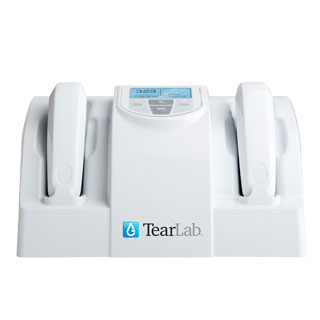 TearLab Osmolarity System
TearLab's sophisticated lab on a chip technology tests a tiny tear sample to measure Osmolarity, or the salt content in the tears. This gives doctors a meaningful measure of the health and stability of the protective tear film that covers the surface of your eyes.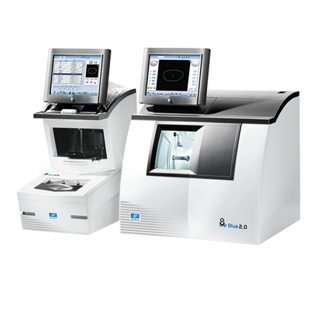 Essilor Mr Blue 2.0 Edger and Tracer
Mr. Blue 2.0 is on the cutting edge of innovation – serving as a genuine ECP partner since its launch. Now featuring a whole range of new functions and even greater flexibility than before, Mr. Blue 2.0 is the perfect solution for: Working with cutting edge technology Differentiating your offerings Optimizing your edging process